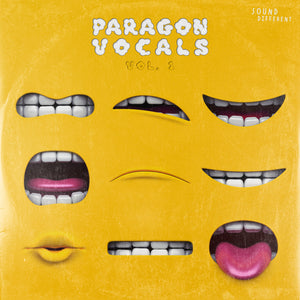 Paragon Vocal Kit Vol. 1
Paragon Vocals is a one of a kind collection of unique vocal loops, one shots, harmonies, adlibs, and field recordings.

This is not your average vocal pack. These vocals that have soul, texture, grit, and dirt. Vocals that make your head turn and ask what the f*** is that!?!? All recorded through analog gear and ready to drop right into any production you are working on to elevate and add life to your music. Done the Paragon way, made to sound different.
This first volume delivers over 250+ vocals that no one has heard before. Put your ears onto something new and enjoy Paragon Vocals Vol. 1.
KIT FEATURES:
- 250+ NEW UNHEARD sounds made by Multi-Platinum Producer Mick Schultz in 24bit/44.1 WAV format
- Vocal Loops, Vocal One-Shots, Vocal Adlib's & Harmonies, Vocal Atmosphere
- Compatible with ALL DAWS (FL Studio, Reason, Ableton, Logic, Pro Tools, etc.)
- Each sound has been meticulously mastered for easy and quick use in your productions.
- Processed using analog gear (Neve, API, Manley, Avalon, John Hardy, Tube Tech, Distressors)
- Recorded with various high-end and vintage microphones such as Sony C800g, Wunder CM7, Blue Kiwi, Sure SM7b, Placid Audio Mic's, Wasaphone Mic's, AKG 414's..
- Additional Vocals by Jared Lee @jaredleemusic
- All sound are royalty free except the sounds in the Vocal Loops folder which are non-royalty free.